PARTICLES+WAVES Cair Crawford
Cair Crawford's WAR ZONES series contemplates how seismic waves created by the distribution of 'bombs' reverberate through the stratosphere and effect changes in matter by dispersing, combining and rearranging its parts.
Matter is a word that comes from the same root as mother (mater). It is also the root of English words for material and materialism. The primitive source, or secret, that lies in the projection of something spiritual in matter is within the folds of its composite materials. Its power, or loss of power, hinges on the configuration or dismantling of these layers and composites.
The composite parts that make up the layers of WAR ZONES are culled from an archive of ephemera, including newspaper articles, snapshots, plates from art books, and historical texts. Organizational systems, maps and graphs serve as grids upon which images are layered, recombined and expanded upon. In The Core is Very Hot, a map of Iraq is embedded within a schematic drawing of cracked earth. Strategic 'hits' stain the landscape and flow into the geographic contours of the field while a cosmological 'target,' appropriated from Indian philosophy, radiates over the entire area. In Blood Sport, modernist, biomorphic shapes float above a camouflaged gridiron linking a violent spectator sport with the theater of war.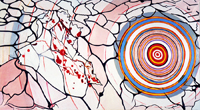 CC 22135


The Core is Very Hot, 2003
Cair Crawford
Oil on canvas
Signed on reverse
42.0"h x 79.0"w x 1.0"d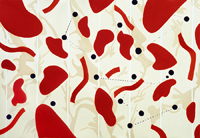 CC 22134


Blood Sport, 2002
Cair Crawford
Oil on canvas
Signed on reverse
54.0"h x 78.0"w