PARTICLES+WAVES Ron Kingswood
"The excitement in painting lies not in the executing perfect likeness of images. Over the past decade, a search for a deeper response to the landscape has led me away from pictorial works, to a more metaphorical and emblematic objective. There is one constant thread that has persisted throughout my work and that is nature itself. These visions of the landscape have only to be unearthed by wandering and roaming familiar refuges. To realize a scene before oneself is not to replicate its exterior covering, but to allow the scene to be immersed by the observer. One can paint it truthfully without replicating it. I find discussions or pronouncements about these later canvasses hugely difficult, and perhaps even more so, unimportant. To characterize these works in a contextual style is unessential, for the pursuit of the sublime is wordless".
Ron Kingswood's allegorical landscapes are meditations upon the cycle of nature itself. His recent works continue to address an awareness of the effect of man and environmental disturbance on the forested areas surrounding his home in Ontario, Canada. "Whether naturally occurring or the result of commercial harvesting, the ruins are what I have been witness to and have used as a subject. I have expressed neither pity nor delight with the impact of where I wander, only relating to the abstraction of these remnants".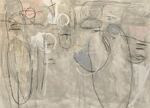 RK 21856
Untitled #2
Ron Kingswood, 2011
Oil and mixed media on canvas.
Signed and dated.
64.0"h x 88.0"w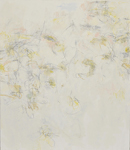 RK 21855
Path to the Lake
Ron Kingswood, 2008
Oil and mixed media on canvas.
Signed and dated.
88.0"h x 76.0"w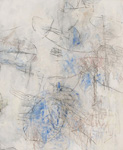 RK 21852
Through the Trees
Ron Kingswood, 2009
Oil and mixed media on canvas.
Signed and dated.
40.0"h x 33.0"w x 2.0"d